Top Story
Airlines & Airports | Jim Byers
Air Canada is working with Ottawa-based Spartan BIoscience to look at how it could deploy the company's portable COVID-19 testing technology in the field.
Featured Travel Technology Video
We know it's an understatement to say it's challenging time in the industry, but we want you to know we're listening to your concerns.
We're aware there's incorrect or misleading information circulating out there from passenger rights advocacy groups and our EIC John Kirk wanted to set the record straight.
Watch his message to learn the truth about refunds and cancellations during COVID-19 crisis, and whether credit card chargebacks can happen.
More Travel Technology Videos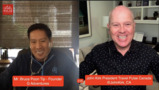 Kirk Talks Travel with Bruce Poon Tip G Adventures Founder

1:2:1 with WestJet's Jane Clementino