Top Story
The worldwide COVID-19 pandemic and the lack of travel around the world has resulted in a temporary layoff of about one-half of the workers at Ensemble Travel Group.
Featured Host Agency & Consortia Video
We know it's an understatement to say it's challenging time in the industry, but we want you to know we're listening to your concerns.
We're aware there's incorrect or misleading information circulating out there from passenger rights advocacy groups and our EIC John Kirk wanted to set the record straight.
Watch his message to learn the truth about refunds and cancellations during COVID-19 crisis, and whether credit card chargebacks can happen.
More Host Agency & Consortia Videos

John Kirk with Flemming Friisdahl - Travel Agent Next Door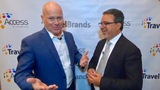 1:2:1 with Frank DeMarinis at 2019 Agent Appreciation Event