Top Story
Features & Advice | Marsha Mowers
Vanderlubbe is fed up with the back and forth discussions between the industry and government entities, and he has the resume and experience to be able to critique.
Featured Features & Advice Video
Etihad Airways has announced that popular Canadian Airline executive Duncan Bureau has been tapped as their new Senior Vice President Global Sales & Distribution. We caught up with Bureau at Toronto's Pearson International Airport for an exclusive 1-2-1 interview. Watch as Bureau walks us through his new role, the big move, plus more."
More Features & Advice Videos

Hard Rock Guitar Smash Los Cabos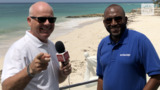 John Kirk with Peter Mayers Barbados Tourism Director