Top Story
Destination & Tourism | Soheila Hakimi
Last night the Saint Lucia Tourism Authority held an event for friends and media at Hotel X in Toronto where they gave thanks to their amazing Canadian team and shared some highlights from their upcoming Summer Festival season.
Featured Destination & Tourism Video
John Kirk and Sunwing Travel Group EVP, Eric Rodriguez, take an in depth look at the all new Grand Bavaro Princess in the Dominican Republic. Watch as we go 1-2-1 mobile with Sunwing Travel Group EVP, responsible for product, Eric Rodriguez, to give you a behind the scenes tour of the property, in a bell cart to boot! We hope you enjoy and find it helpful.
More Destination & Tourism Videos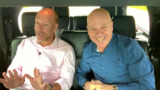 John Kirk with David Black Karsima Hotels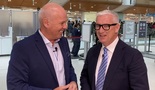 John Kirk with Duncan Bureau - Etihad Airways