Top Story
Air Canada Vacations attracted a huge crowd for its annual product showcase in Toronto. ACV officials promised to expand their efforts to support the travel trade.
Featured Destination & Tourism Video
The best and brightest stars in the Canadian travel world descended upon downtown Toronto for the first annual TravelPulse Canada Readers' Choice Awards.
More Destination & Tourism Videos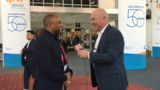 Visit Florida at IPW
Jamaica's Minister of Tourism Gives Update on Initiatives After UNWTO