Top Story
Visit North Carolina put on a fine show in Toronto this week, showcasing their vibrant cities, abundant nature and food scene. The pet-friendly state also has its own canine travel agent, a lovely mutt named Mo.
Featured Destination & Tourism Video
John Kirk and Sunwing Travel Group EVP, Eric Rodriguez, take an in depth look at the all new Grand Bavaro Princess in the Dominican Republic. Watch as we go 1-2-1 mobile with Sunwing Travel Group EVP, responsible for product, Eric Rodriguez, to give you a behind the scenes tour of the property, in a bell cart to boot! We hope you enjoy and find it helpful.
More Destination & Tourism Videos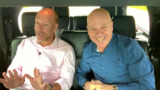 John Kirk with David Black Karsima Hotels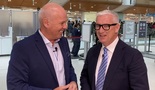 John Kirk with Duncan Bureau - Etihad Airways