Top Story
Air Canada Vacations is offering agents the chance to earn 5X ACV & ME points when booking any Canada packages. New offerings include great RV trips to explore the country.
Featured Car Rental & Rail Video
Kevin Froemming, Chief Commercial Officer and EVP for Playa Hotels and Resorts, took part in TravelPulse Canada LIVE Facebook chat, talking with Editor-in-Chief John Kirk about health and safety plans, the COVID-19 situation in the U.S., fam trips to Playa properties and a potentially huge opportunity for agents to sell destination weddings.
More Car Rental & Rail Videos
Kirk Talks Travel with Hurtigruten President John Downey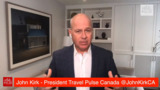 John Kirk - Travel Expert - COVID-19: Refunds and Cancellations