Top Story
Airlines & Airports | Catherine Maisonneuve
At the invitation of Turkish Airlines and the Istanbul Tourism Bureau, our TravelPulse Quebec content director went to the Turkish capital on the wings of the first carrier in the country, testing the Business Class of the airline that has been praised since its arrival in Montreal.
Featured Airlines & Airports Video
On May 30, 2019 Manulife introduced an innovative travel insurance campaign called Saved by Travel Insurance. This campaign aims to educate Canadians on how important it is to purchase travel insurance, not only to help protect themselves or their loved ones from emergency medical expenses while travelling, but also to help protect their financial investment.
More Airlines & Airports Videos

1:2:1 with WestJet's Jane Clementino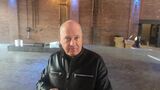 Readers Choice Award Voting Now LIVE!